REVIEW OVERVIEW

Bid4papers Points

SUMMARY

You can use the site at your own risk and peril. I don't recommend you just because I didn't have any good experience here. Of course, I can say again, that the site isn't that bad and maybe I just chose the wrong writer. The site has its advantages and the thing that it still exists say that it is working. My mark is 4 from 10, and only because they made such a site with a good aim, it is nice and simple, and they have completely normal prices.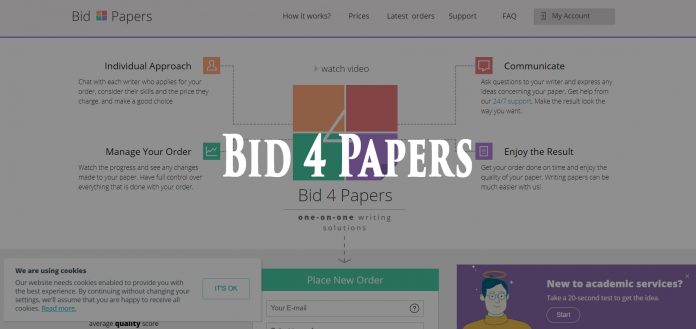 Obviously, the reason for your appearance here is that you are stuck with the essay, or the deadline is coming. Fortunately, you're now on the website which can help you to make an essay about almost any topic. It sounds strange from the comment of the person who is supposed to talk about some service, but exactly after this comment, you will decide, to use bid 4 papers or not.
You will know all the important information about the site that is unique after its origin and the whole idea. The industry of writing texts is very popular today, and almost every fifth person needs help with completing a text. No matter what is the time frame, each good website will help you and will do it as fast as it can. Probably, these websites can be called fairy godmothers and fathers as they appear with the ready, highly qualified task. Well, generally, it is supposed to be so.
Try to remember, usually, writers don't have lots of descriptions in their profiles; usually, testimonials talk after them, but not empty words written by themselves. Why am I talking about it? Because I fell for it.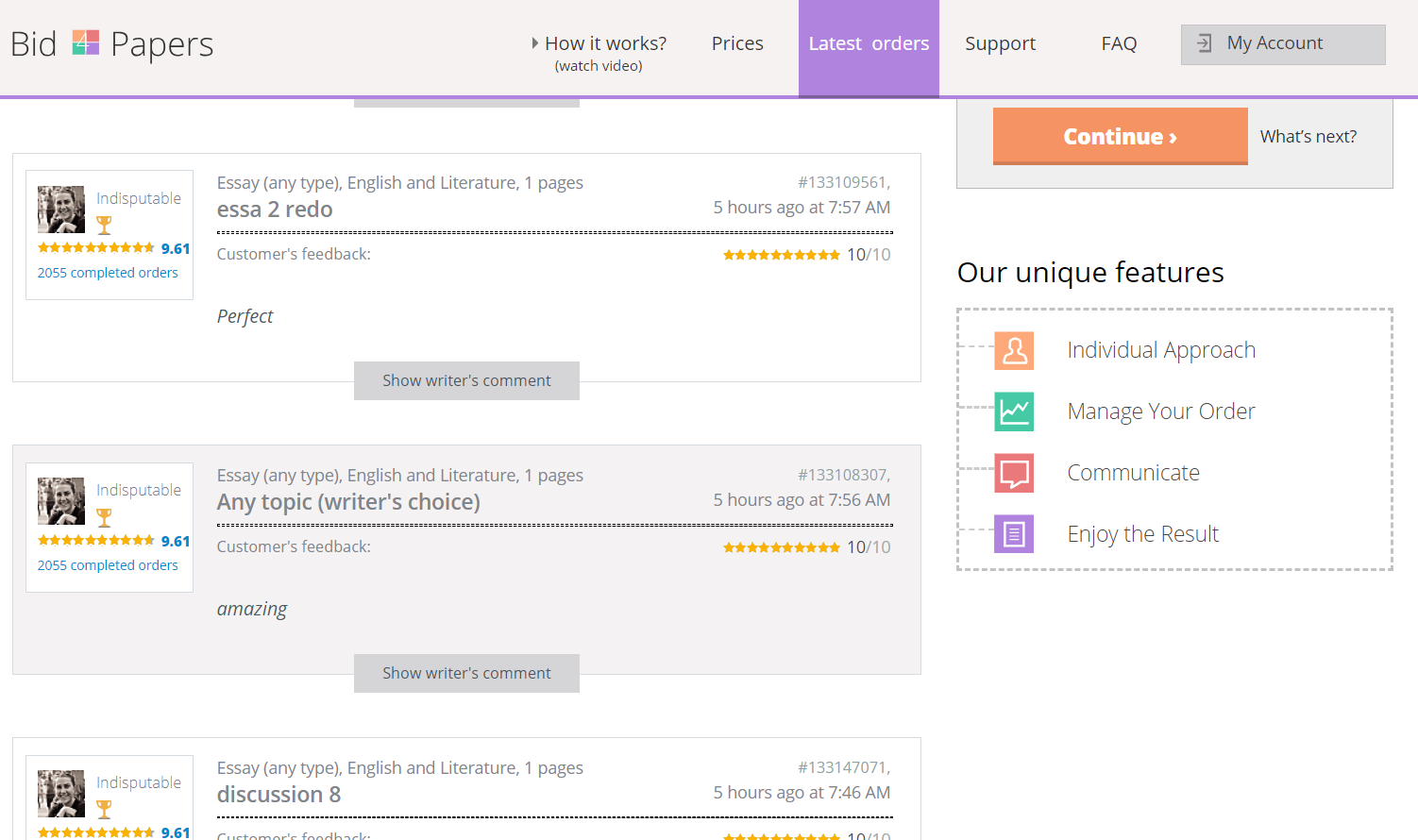 Talking about bid4papers, we can't describe it like any other thousands of essay writing sites because a world "Bid" in its name says everything for itself. It is a huge platform or even an academic market where you can get help with completing a text. There, you publish your request, explain each detail and wait whether dozens of writers will start sending requests to take your order. To be honest, it is a nice concept as you can choose whoever you want and keep in touch with the person when he is writing text for you. Also, you can be partners for long cooperation if you will like a person's work and your results after passing the text. Unfortunately, you can't be sure that the paper you get will be of the highest quality following the standards of your academic level and professor's requirements and advice.
Service & Design of Bid4papers
I'd like to start with a service and the design. What I like most of all is the design of the service. Essay bid has a very easy guideline. The first tab you see there is the tab with "How it works?" explanation. They even added a video there for easier understanding. So, the steps you need to do are:
Filling in the order form mentioning your email address, the type of assignment, the number of pages you need, and the deadline.
After that, you will see how several writers chose your task and are waiting for your approval.
Next step is to choose the best candidate according to papers he/ she wrote before, rating, the price for work.
Then you contact the writer directly and control the writing process by yourself in the special field.
Get a support 24/7 where you can talk to any representative of the site's administration.
How do you think? Is bid4papers legit? Yes, it is, so no worries with it, you won't get to police or any other trouble connected to law.
Price & Discounts on Bid4papers
When I read all this information, I had the same mood you have now. But later I regret my decision.
After bid4papers review I decided to choose a writer who is not expensive, I thought that the more expensive he/she is, the more impudent he/she will be. Moreover, I think that people with too high prices are simply self-indulged. That is why I chose the one who had prices a little bit less than average ones. I thought that if he makes reasonable prices, he is a real professional.
And yes, the site has a specific procedure of order, as they don't have stable pricing list. As you understood, there is no place for discounts. After a bid for papers reviews, I realized several things: qualified writers have highest bids if you chose a site with bids never wait to choose a more expensive writer, as he is your guarantee of the well-made job. Exactly low prices mean low offers and the ones I got were from freelance writers with no academic writing experience or education in the area of study.
I chose the cheaper, and when the deadline came, he sends such a bosh, that even I know that the II World War didn't begin in 1936, as he wrote there! Also, he mentioned such details, that didn't even exist in reality! Moreover, he wrote about the Triple Entente which was at the I World War! Even I know these details, but a writer who is supposed to be a professional doesn't. That is why I can assume that the price I paid him was too high. I'd better not pay any cent for that sluggard who, probably, didn't even finish school.
Quality Of Writing of Bid4papers
Now we slowly came to the quality of that drool I got. My topic was connected to world history; I know that I am not strong on this topic, so that was the only reason I chose the helper site. I chose this one because their great feature is that you start to communicate with the writer directly. After reading the paper, I couldn't get whether the writer was an adult or a pupil, or a member of kindergarten. The number of mistakes was enormous, and I'm not even talking about those awful mistakes he did talking about the WW1 together with the WW2. I'm talking about the grammar, tenses, spelling of the words. Maybe, it was even not an English-speaking writer; maybe it was some Russian guy who decided that he is an expert in English after a week he spent abroad near the seaside. Why should I think about the nationality of the writer? Why can't I just think about my paper? And during my bid 4 papers review I can summarize that this is a mistake of the administration. Such sites that were made to help need to HELP! But not making things worse.
Delivery from Bid4papers
Even the delivery of the "essay," if I can call that paper so, was bad. The author missed the deadline in five days! Can you imagine that? I was texting my writer for fifth days, and he wasn't answering, being online. On the fifth days, when I decided that I will text to the administration that 'genius' texted me back saying sorry about the decline, but he had some issues. I am not interested in issues; I was interested in the text. I was so excited because my previous experiences were the same terrible. I described it in Essaycompany review. Thanks to my brain, the deadline for passing at the university weren't the same; it was in one week after the deadline for the writer. Then, if you know how to count, you see – I had only two days left. I paid, then he sent a paper, and I was in tremendous shock about all the errors and mistakes I described to you before. When I said to edit, the writer refused, and I didn't see him online anymore. So, the next two days I was sitting and reading the information about the WW2, changing his mistakes and errors and thinking what a stupid person I am. As a result, my pocket was less on $100, my brains were full of knowledge, but my paper was still dry, and nothing good was going to happen.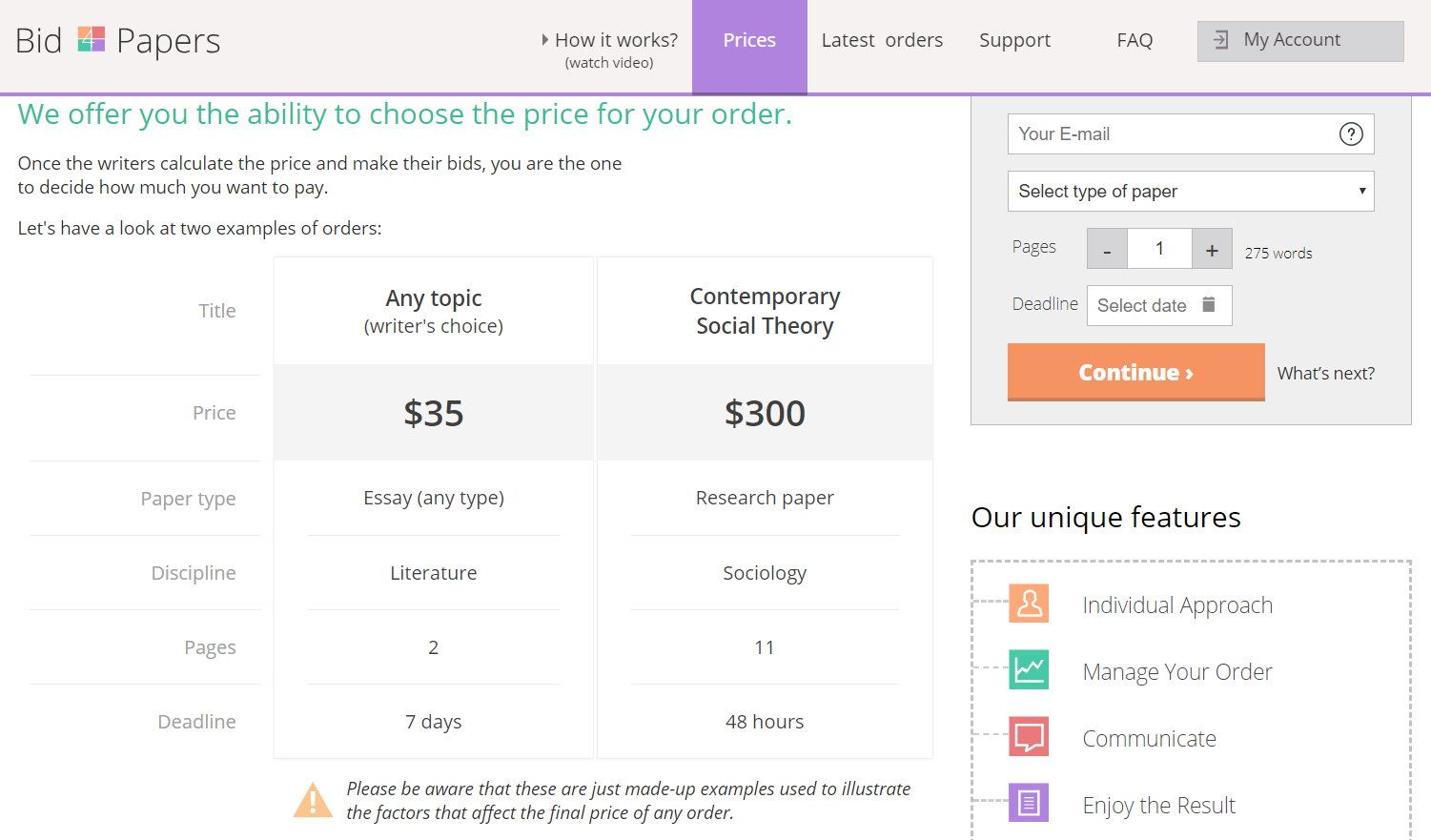 Pros
Freedom of choice. You choose the writer by yourself, and only you are responsible for your decision.
Available communication. You communicate with your writer directly without any other agent that makes the process easier in thousands of time.
Cons
Lack of guarantee. You can't be sure that the work you receive will be good and of the highest quality.
Lack of security. "Bid 4 papers" isn't safe as writers see you, your photo and profile. That is why you could get easily betrayed, and the professor will know who you are, and what did you do.
Unreliable writers. In case of lie you are not in safety as all those writers are freelancers on the Internet, and after you send money and get paper, you can almost forget that he/ she will give you money back.