REVIEW OVERVIEW

Rating

SUMMARY

Finding a dependable and top paper writing service is not easy. Sometimes you lose money to a scammer, and other days you get a write-up whose quality is below par. In my assessment of graduateway.com, it is a service student can rely on to make their academic dreams come true through well-written essays and other types of academic papers.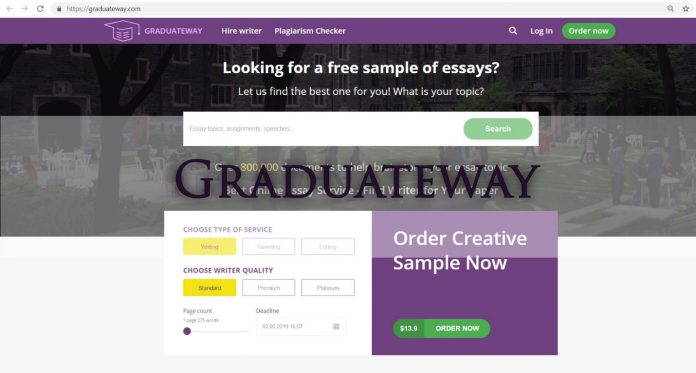 For most students, having a lot of assignments to do at school is always the beginning of poor grades. It could also be that one does not have requisite literary composition skills that would enable him or her to write a good paper. Then there are days when difficult topics become a stumbling block to one's quest for the best grades. The list is endless!
Now, depending on the challenge a student faces, there are various solutions to better their grades. Essay writing websites is a good example. In this review, I walk you through Graduateway.com, online paper writing service that has seen thousands of students through their academic projects. The big question is, "Is it a scam or not?"
Well, I dug through the nattiest and grittiest of the company and came up with the following parameters to determine its authenticity and in particular, if it merits as the best platform for students who need help with assignments:
Price & Discounts on Graduateway
Most students cannot afford to pay for expensive customer papers, let alone hiring writers who charge high prices per page of a write-up. But with so many papers writing services out there from which to choose the best, pricing, therefore, became my foremost parameter for weighing into the affordability of GraduateWay.com.
Well, while most custom paper agencies have a pricing strategy whereby students fill an order requesting for a paper and decide whether to proceed depending on the value of an order at the end, I noted graduateway.com works like a bidding site. You choose a writer with whom you want to collaborate through a project. Once you decide on a paper on which you need help with and having indicated the deadline, a number of pages, and the topic proceed to view available offers by different writers at the end of the bargain.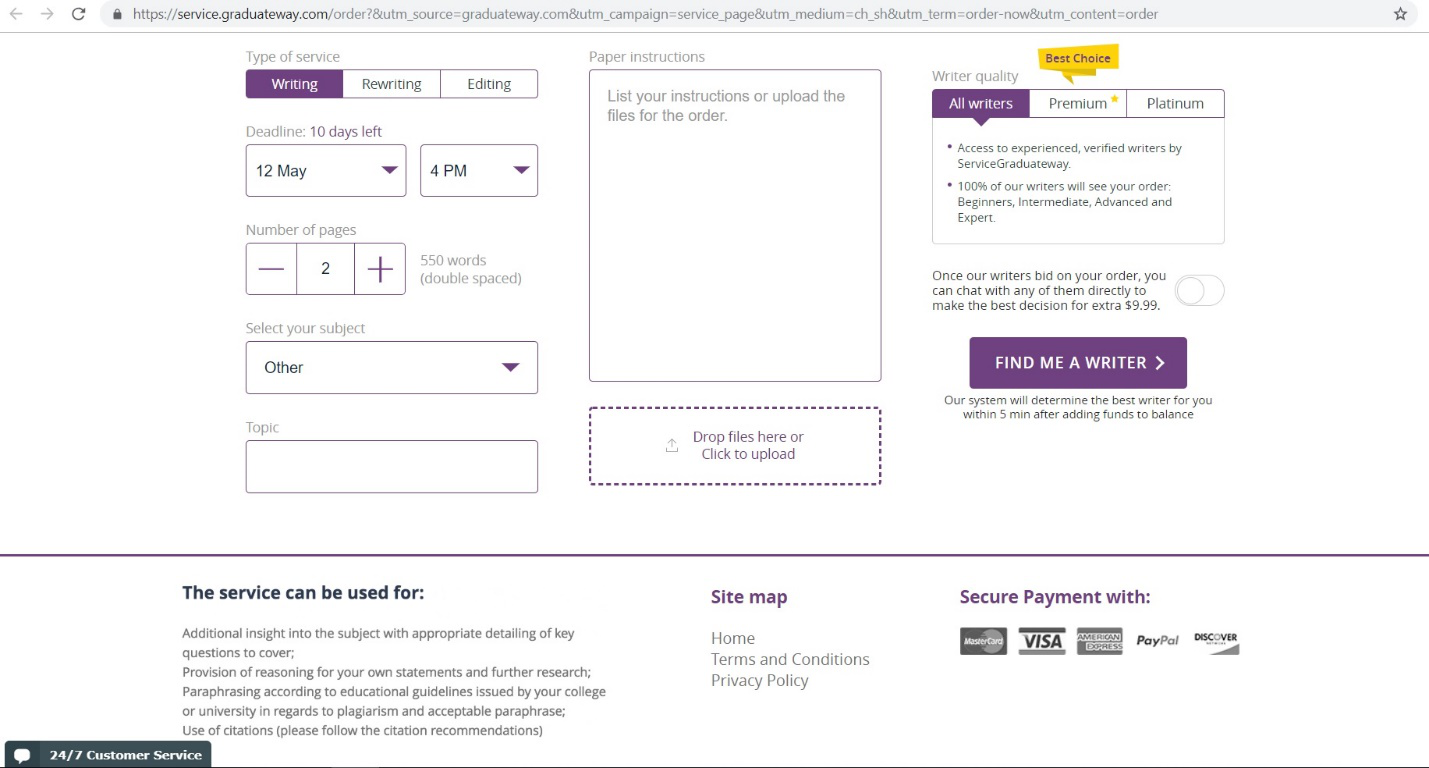 A 2-page essay starts from $31.8, but it could go upwards depending on the type of writer you need. I noticed there is a writer who charges $53.7. For some students, this is an expensive site. However, in the fact that the more you pay, the higher the quality of the paper, makes it worth trying. After all, most students who use graduateway.com have expressed satisfaction with pricing because it makes it possible for one to choose a writer depending on his or her financial potential.
Choosing a writer means that there is always leeway to bargain. However, you can also get a limited offer starting from $13.9 per page which is a good deal for students who usually do not have all the money in the world to pay for platinum-rated paper quality.
Quality Of Writing of Graduateway
Quality of papers students get from graduatway.com is another factor I took into consideration when requesting for help with a 2-page essay from graduateway.com. And so you may want to ask, "Is it worth your money if you need help with any type of academic project or assignment?"
Well, while you may have some reservations when it comes to using Graduateway because it is conventionally a site where students get access to thousands of free essay samples, but requesting for help from a specific writer is another side of the bargain.  Therefore, depending on the type of a writer you choose for your project, or paper type you need, say premium, platinum or standard, quality of write-ups varies proportionally to pricing.
Still, on quality of service, it is also noteworthy that Graduateway delivers original papers. The good news is that students who use this agency to do their assignments benefit from its plagiarism checking system. At the top of the website or with the help navigation button, browse to Plagiarism checker, paste your content then click 'check my essay' to confirm if it is 100% unique.
Customer service
Quality of customer service is another important factor to consider when paying for papers online or hiring a writer. That is why most students always want to hire a writer from an agency that is highly responsive to orders. Now, to make sure graduateway.com merits on this premise, I looked around the website to see available contact options.

First off, you can contact graduateway.com through a web form. All you have to do is click 'contact us' at the bottom of the site. However, I noted that response from customer service is quite slow with this option. I then decided to use live chat, which I must say is among the fastest I've ever encountered among many essay writing services I have looked into in my peer reviews. It would, however, interest you to note that the service does not have dedicated social media pages/accounts as alternative contact options.
Types of services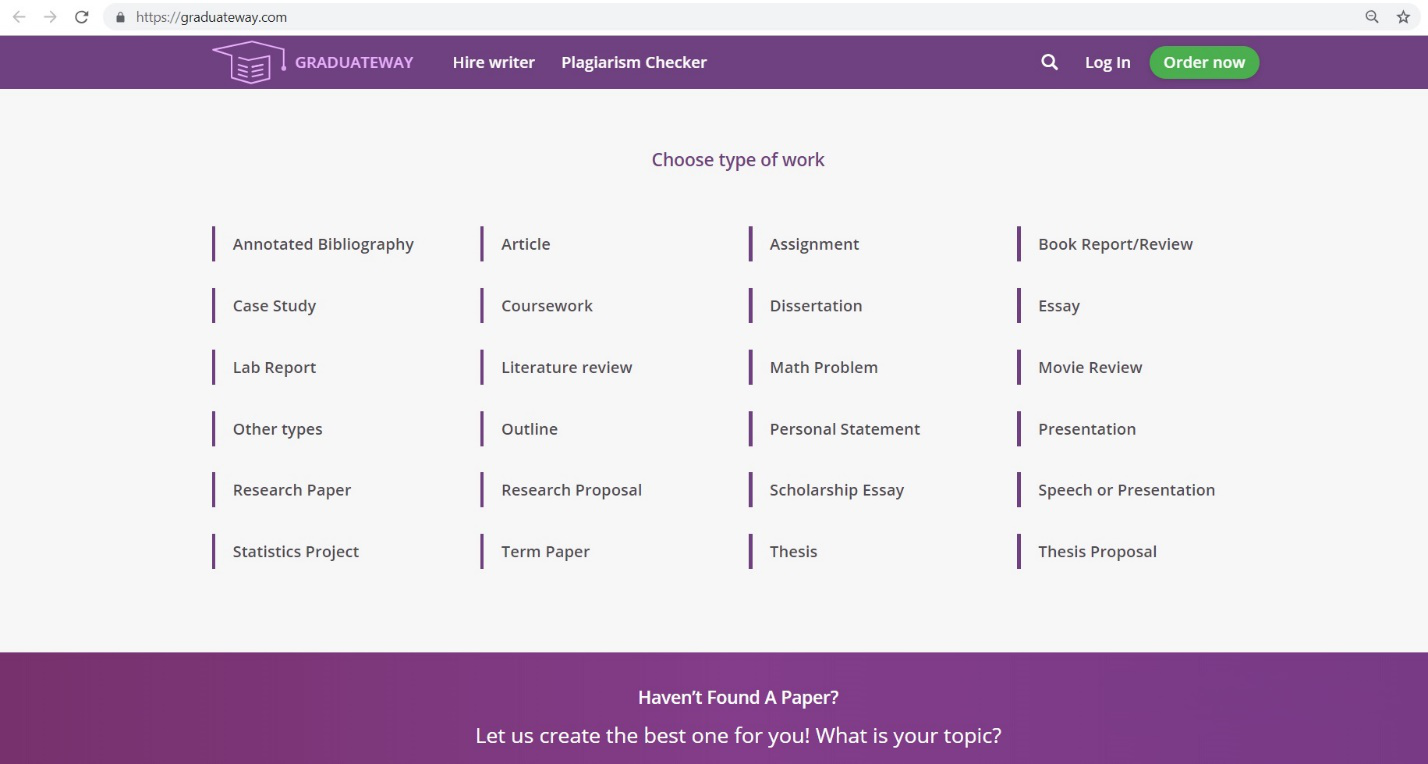 Another parameter I looked into is available paper help services at graduateway.com. From a dissertation, case studies, personal statements, research papers, movie reviews, coursework, essay, article, paper outline, term papers to research proposals, and many more, Graduateway provides students with wide-ranging writing services. Others include thesis, scholarship essays, literature review, book reports/reviews, and lab reports and statistics projects. In a nutshell, there are all types of academic paper writing services you can get on the site and for which you can place a writing order with a writer of choice.
Website usability
Another vital feature student must take into consideration when paying for papers is website usability. In this regard, my interest was drawn to navigability and design of graduateway.com. From the moment you land on the site, you will straightaway take note that it does not have a lot of webpages. The fact that it is not overcrowded with content makes it user-friendly. The design is generally simple and appealing. Students who are looking for help with their academic writing assignments.  You can easily find your way around the site and locate a service with great ease.
Payment
Mode of payment is another parameter I looked into before putting together this graduateway.com review. The company provides many payment channels, most of which I noted is convenient for students. Examples include PayPal, which is an online payment service trusted by millions of people and businesses around the world, Visa, Discover, MasterCard and American Express.